Parent Input Form for Student Placement – Each year, TCE parents are provided the opportunity to share information that may help the staff as they make class placements for the upcoming school year! Please be sure to complete this form by end of May 2021 for your rising Kindergartner!
Rising Kindergarten Question and Answer Board – TCE has created a Google Form for parents to post ANY questions they have regarding Kindergarten for the 2021/2022 school year! Answers will be posted on the same form and visible for all to see (this is a GREAT resource with helpful answers, be sure to check it out!). If you have any additional questions after reading through the existing answers, be sure to leave them on the Google Form so the school can respond!
Bonus Fun Activities! Here is a Choice Board (English and Spanish) prepared by TCE with tons of fun activities you can work on together as a family this summer as you get ready for Kindergarten!
Kindergarten registration information:
The CMS Kindergarten registration packet is HERE. You can drop off your completed registration packet and required documents in TCE's main office Monday – Friday during school hours [UPDATED FOR SUMMER HOURS: Monday – Thursday 9:00 a.m. – 2:00 p.m.] (please ring the bell out front) or emailed as directed on the foregoing link*. If you have any questions or need more information, please call 980-343-5335.

*Note enrollment packets are to be delivered directly to the school after June 4, 2021.
---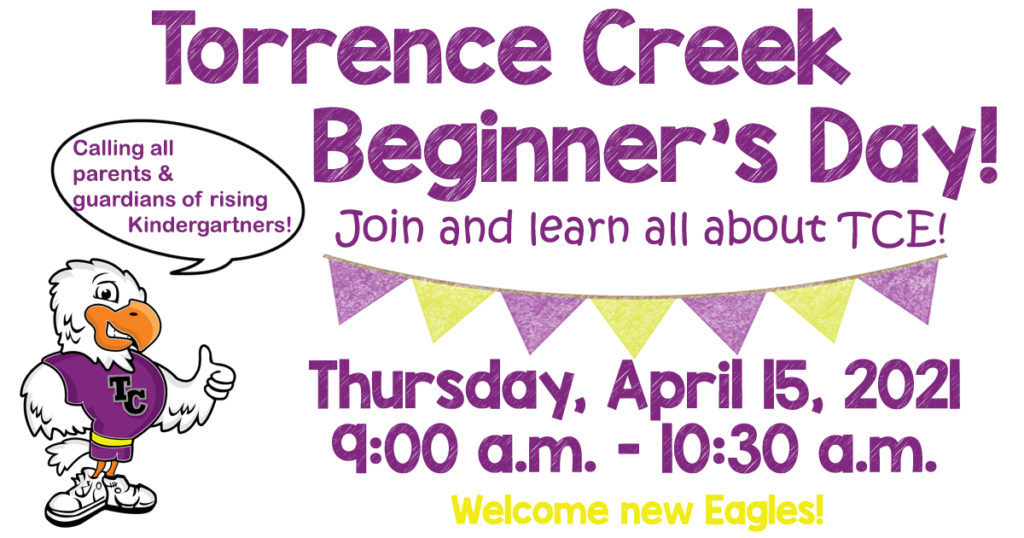 Calling all parents and caregivers of rising Kindergartners! Join us for our Beginner's Day on Thursday, April 15, 2021 (9:00 – 10:30 a.m.)! *Note this informational session is designed for parents and guardians (rather than students) to learn about what to expect for your child during their Kindergarten year.
Torrence Creek Elementary (Virtual)
Zoom Link:

Join Here

Meeting ID: 972 0340 4444
Passcode: 637947
Beginners-Day-2021-Flyer-