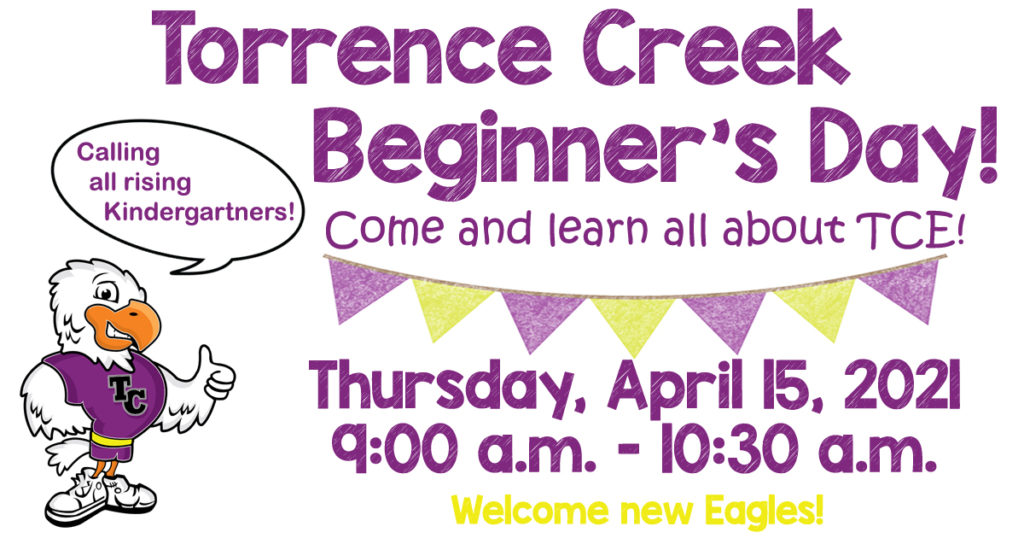 Calling all rising Kindergartners! Join us for our Beginner's Day on Thursday, April 15, 2021 (9:00 – 10:30 a.m.)! Specific details will follow at a later date as to whether the event will be the traditional in-person event as described below or virtual (if in-person, please note you will need to sign-in with your driver's license at our front office; if virtual, the principal will host a virtual coffee chat via Zoom for new parents to ask questions and learn more about TCE, similar to last year's event!).
Subject to any potential COVID restrictions and closures in place at the time of the event, Beginner's Day is an opportunity for parents to learn more about the academic program at Torrence Creek Elementary and allow rising Kindergarten students to visit a classroom. Parents will have the opportunity to ask questions during this session, as well as attend a guided tour of the school. Light snacks, refreshments and giveaways! Come learn about our amazing school. We are excited to meet you and your student!
Kindergarten registration information:
The registration packet link is: http://www.cms.k12.nc.us/cmsdepartments/StudentPlacement/Pages/EnrollingYourStudent.aspx. You can drop off your completed registration packet and required documents in TCE's main office Monday – Friday during school hours (please ring the bell out front) or emailed as directed on the foregoing link. If you have any questions or need more information, please call 980-343-5335.