EVERY BOX COUNTS!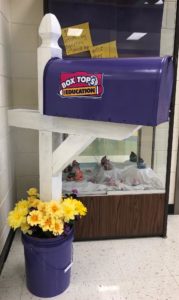 Box Tops for Education is one of America's best school loyalty programs. Over 80,000 K-8 schools participate. Each Box Top is worth 10 cents for our school and TCE can use Box Top cash to purchase anything we need! You can now "clip" box tops electronically!
BTFE_Overview

Detailed Box Tops For Education (BTFE) App Instructions:

1.  Download the app and create an account using your e-mail, Facebook, or Google.
2.  In the app, select TCE as your school.
3.  After each grocery shopping trip, save your receipt and scan it on the app.
4.  BTFE will automatically apply eligible purchases from your receipt to your account!
5.  All money that you earn through the app goes directly to our school. You can also
track our school's overall progress on the app!
6.  Collection through the app is year-round, so you can scan and earn anytime you
shop.
7.  Check the BTFE app regularly for new ways to earn BONUS Box Tops for
TCE!
Instructions for submitting receipts from the following grocery delivery or pick-up
services – Shipt, Instacart, Target.com, Target Pick-Up/Drive-Up, Jet.com,
SamsClub.com, Walmart.com, and Walmart Grocery Pick-Up:
a. Save and forward your e-mailed receipt to: receipts@boxtops4education.com
b. Make sure to send the original e-mail you received from your grocery service.
Do not forward an image or attachment of a receipt.
c. When you order from Boxed.com, Box Tops from that purchase will
automatically awarded.
d. More grocery services are being added as this new process is rolled out!
Instructions for submitting receipts from all other grocery delivery or pick-up services, including Amazon:
a. Take a screen shot (or multiple) of your entire e-mailed receipt.
b. Open the online BTFE Contact Us form.
c. In the Comments field, please include: your name, your e-mail address, your
school's name, and the amount of Box Tops earned from purchases on that
receipt.
d. At the bottom of the form, click on "Upload File Images" to add the picture(s)
of the receipt and then send.
BTFE_PartProducts_QR