UPDATE (4/14/2021): Thank you for the overwhelming support of the Boys' Event 2021!! We look forward to an enjoyable evening! If you purchased tickets, please stay tuned for additional information regarding pickup of your Painting Kit from TCE. Your bag will also include a tag with information on how to access the Zoom on April 24 at 6:30 pm!

Regrettably no further tickets are available as of the sales deadline on 4/13 as all items for the Painting Kits have now been purchased and ordered. If you missed the sale period, we encourage you to participate at home with your own painting decor and theme!! #WeAreTCE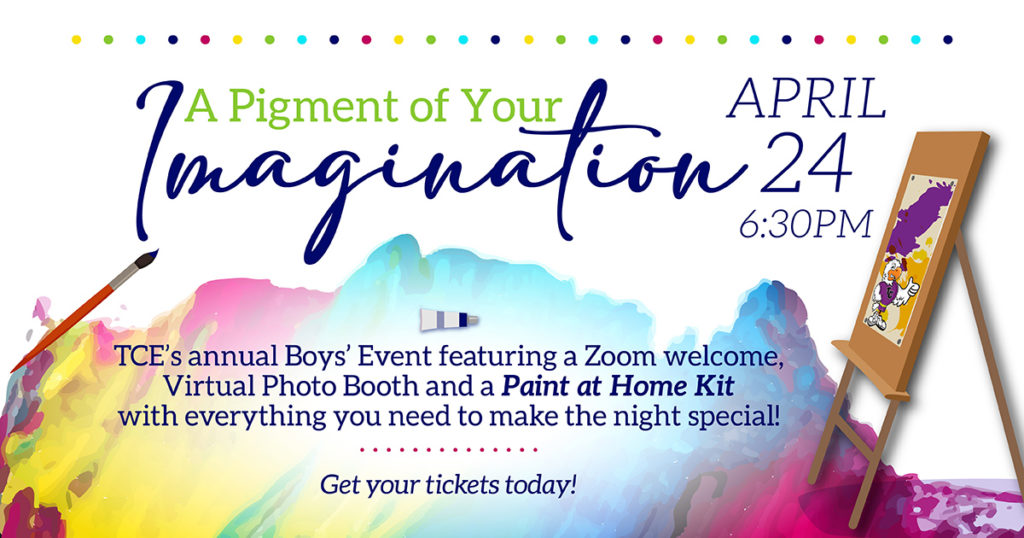 The PTA proudly presents TCE's annual event for TCE boys and their special someone!!! This year's theme is "A Pigment of Your Imagination: Guided Paint at Home Party" and will be held at home on Saturday, April 24, 2021 at 6:30 pm! Each ticket includes a kit with all painting materials and supplies, questionnaire and snacks. The painting instruction will be led by TCE's very own art teacher (and prior NC Art Teacher of the Year!), Mrs. Friedl!!!
Purchase Tickets now through Tuesday, April 13.*
The Boys' Event 2021 will be an at-home event featuring a live Welcome and Instruction via Zoom, a Virtual Photo Booth to share photos in real time and a very special Paint at Home Kit with everything needed to make a fun and memorable night for our TCE boys and their special someone!
The live event at 6:30 pm will include very special TCE guests, giveaways, painting instruction, group photo and more!
The painting instruction will be hosted by our very own Mrs. Friedl and she will lead the attendees in creating their very own painted masterpiece! Each painting kit will include not one but TWO canvases for the student and their special someone that will make one complete picture when put together! Attendees with TCE siblings, please know you will receive enough materials to make a complete set with each student.
To keep you moving, a Custom TCE Playlist will be provided to you via Spotify or Youtube, or you can enjoy your favorite music at home!
A Virtual Photo Booth will be available to share photos in real time as you enjoy your evening!
Tickets NOW AVAILABLE FOR PURCHASE ONLINE (HERE) for $15 total (plus $10 for each additional sibling enrolled at TCE, each paid ticket will receive their own Painting Kit) and will be sold online through Tuesday, April 13*. If you would like to attend and need financial assistance, please contact Christian.Griffin@cms.k12.nc.us. If you are interested in assisting with this event, please contact Shandi Gray with the PTA at shandigray1217@gmail.com.
Other ideas for a little extra magic include:
-Wearing your favorite painting outfit;
-Making or taking-out a special dinner before the live Zoom; or
-Adding some extra painting decor in your home!
*If possible, we would be very grateful if tickets were purchased as soon as you know you would like to attend so that we can better coordinate the number of Kits we need to make! Ticket purchases are limited to currently enrolled TCE students. Thank you for your help!