Below are just a few ways the PTA makes a difference at TCE!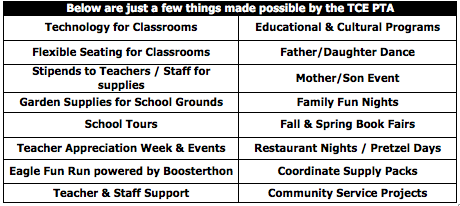 Join HERE today! The Torrence Creek PTA consists of teachers, administrators, parents, extended family and community members who volunteer their time and talents to help our students and teachers. There is an opportunity for everyone with our PTA. If you have an hour, a day or want to chair a committee – there is a place for you in our PTA! If you have any questions or would like to know more about how to get involved, please complete our short online Volunteer Interest Form or send us an email (tceaglespta@gmail.com)! Membership ($6 per year) in the PTA does not obligate you to attend meetings, volunteer or chair a committee. It simply shows your support for our organization and helps us meet our goal of 100% participation!
Click HERE for easy ways to earn money for TCE throughout the year through our partner programs!