WE ARE THE TORRENCE CREEK EAGLES … HELP US SOAR TO NEW HEIGHTS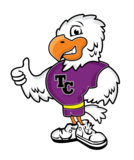 Dear Torrence Creek Families:
This year we are asking each family to consider a donation of $50 per student to help us move towards our goal of one-to-one technology for all students (iPads for grades K-2 and Chromebooks for grades 3-5). Access to digital tools such as these will truly enhance our classroom learning environments, while also preparing our students to succeed in our rapidly changing world.
Your donations will also be used thoughtfully to help sponsor academic enrichment programs, family events, teacher stipends and other extras that make Torrence Creek "home" to our students.
Donations are due by Friday, October 9, are tax-deductible and will be used at Torrence Creek this year. Many companies match funds, so please check to see if your company is one of them.
In addition to making a monetary donation, we encourage you to support Torrence Creek in a variety of other ways. Please help our school community soar to new heights this year.
Thank you for your thoughtful consideration and support!
Shondrecca Taylor                                       Jennifer Howe
PTA President                                              VP Fundraising
Donor Name:___________________________     Email:_______________________________
Student Name:__________________________    Teacher:_____________________________
We will make a  donation in the amount of ________ (checks payable to TCE PTA)
We will re-link our Harris Teeter Vic Card. Our Vic Card # is __________________________
We will send in Box Tops, Labels for Education, Tyson A+ and Coke Rewards by Oct 2nd\
We can't make a monetary donation at this time, but can give our time. We would like more information about volunteering in the classroom and with the PTA.