UPDATE (2/8/2021): Thank you for the overwhelming support of the Girls' Dance 2021!! We look forward to an enjoyable evening! If you purchased tickets, please stay tuned for additional information regarding pickup of your Rainbow Kit from TCE. Your box will also include a tag with information on how to access the Zoom on Feb. 20 at 6:30 pm!

Regrettably no further tickets are available as of the sales deadline on 2/7 as all items for the Rainbow Kit have now been purchased and ordered. If you missed the sale period, we encourage you to participate at home with your own rainbow decor and theme!! #WeAreTCE
---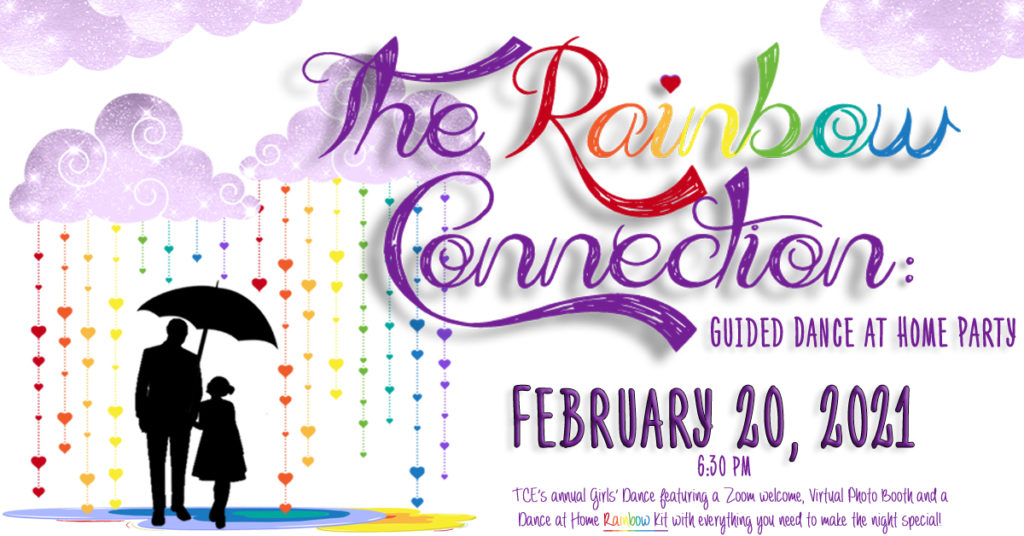 The PTA proudly presents TCE's 14th annual dance for TCE girls and their special someone!!! This year's theme is "The Rainbow Connection: Guided Dance at Home Party" and will be held at home on Saturday, February 20, 2021 at 6:30 pm! Each ticket includes a rainbow kit with specially selected decor, keepsakes, crafts, activities and snacks.
Purchase Tickets now through Feb. 7*
The Girls' Dance 2021 will be an at-home event featuring a live Welcome and Introduction via Zoom, a Virtual Photo Booth to share photos in real time and a very special Dance at Home Rainbow Kit with everything needed to make a fun and memorable night for our TCE girls and their special someone!
The live Welcome at 6:30 pm will last approximately twenty minutes and will include very special TCE guests, giveaways, dance move instruction, group photo and more!
After the introductory live Welcome, the Zoom portion will end and each guest will be invited to open their special Rainbow Kit and enjoy the contents inside! To help guide you, a special slideshow presentation will be available to walk you through each item in the kit at your own pace!
To keep you moving, a Custom TCE Playlist will be provided to you via Spotify or Youtube, or you can enjoy your favorite music at home!
A Virtual Photo Booth will be available to share photos in real time as you enjoy your evening!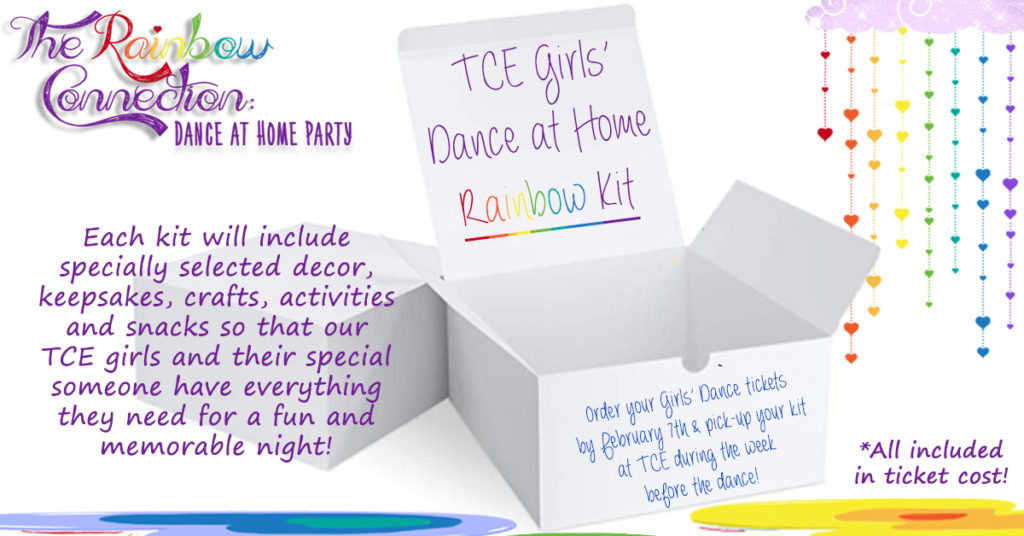 Tickets NOW AVAILABLE FOR PURCHASE ONLINE (HERE) for $15 total (plus $10 for each additional sibling enrolled at TCE, each paid ticket will receive their own Rainbow Kit) and will be sold online through Sunday, February 7*. If you would like to attend and need financial assistance, please contact Christian.Griffin@cms.k12.nc.us. If you are interested in assisting with this event, please contact Becky Steve with the PTA at beckysteve2008@gmail.com.
Other ideas for a little extra magic include:
-Dressing up in favorite or fancy outfits (rainbow themed?!);
-Making or taking-out a special dinner before the live Zoom Welcome; or
-Adding some extra rainbow decorations in your home!
*If possible, we would be very grateful if tickets were purchased as soon as you know you would like to attend so that we can better coordinate the number of Kits we need to make! Ticket purchases are limited to currently enrolled TCE students. Thank you for your help!