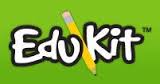 Order your 2017-2018 EduKit 
EduKits are custom made to include the supplies selected and approved by our school. Order by June 20 for the BEST pricing and FREE shipping.  A confirmation will be emailed to you after your order has been placed. If you order by June 20th, your child's EduKit will be in the classroom at Meet the Teacher.
Extended online ordering is available through EduKit's Last Chance program from June 21 – August 6. Last Chance orders are subject to an additional fee and will be delivered to your home shortly before school begins.
REMINDER: Order kits for the grade your student(s) will be entering in the 2017/2018 school year.