What does the PTA do for our School?  
The Torrence Creek PTA consists of an active group of Parents who volunteer their time and talents for our school.  Our PTA is made up of teachers, parents, and community members from all different backgrounds!  There is an opportunity for everyone with our PTA.  Below is a list of just a few things that the PTA does to make a difference at TCE. If you have any questions or would like to know more about how to get involved, please contact us at tceaglespta@gmail.com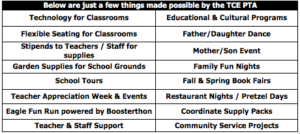 Ways you can help the PTA throughout the year
There are several vendors who partner with TCE to provide valuable funds for our classrooms and programs.  By enrolling in these programs you are helping out your student's classroom and school every time you shop, eat or order from Amazon.  It is a super easy way to support Torrence Creek.  The programs run year round so be sure to enroll ASAP and start helping your school now!  Details are below.
It is Hip to Clip! (Box Tops)  www.boxtops4education.com/
One easy way to support TCE is probably sitting right in your house! TCE partners with Box Tops for Education which provides funds to our school.
Simply cut the Box Tops of many popular items found in our local grocery stores and send them in on Box Top Collection days.
TCE receives 10cents for each box top!
Smile for TCE (with Amazon)  www.smile.amazon.com
Note: smile.amazon.com is the same site as amazon.com. The only difference is one URL gives a percentage of your purchase back to TCE
Log in with your Amazon.com username and password or register for an account. If you don't have on

e

Search "PTA North Carolina Congress Torrence Creek Elementary School PTA" and then select TCE.

You are now supporting TCE and every time you shop Amazon via smile.amazon.com a percentage of your order will come back to TCE.
Harris Teeter Together in Education  www.harristeeter.com/community/together_in_education
Link your VIC card to TCE. Click on "Link to your School" and use the code 5828.

Shop for HT brands and a percentage of your purchase helps TCE!

Earn with no limits. There are no limits placed on how much a school can earn and there is no cost to the shopper for participating.
Publix Partners
Use your Publix Partner Torrence Creek Elementary Card each time you shop at a Publix Store. We send these cards home at the beginning of each school year.